Bake Starís
TURBO-AIR PRE-DEPANNER
An exciting new development in sanitary pre-depanning.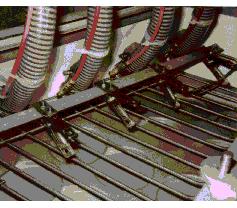 †††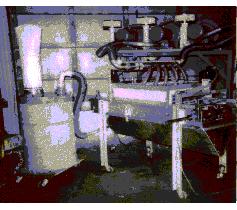 The Problem: Regular compressor air accumulates oil, contaminants, molds and bacteria in the pressure supply lines. Even the best in-line filtration systems allow some material to pass through and become ineffective. As evidenced by the milky water mist often seen at startup, which testing has shown contains active bacteria and mold spores. Elimination of this problem area greatly increases the shelf-life of bakery products.
The Solution: The Turbo-Air Pre-Depanner uses sanitary Turbine air to loosen stuck buns before depanning. Using clean Turbine air eliminates the need for costly air dryers & filters for your compressor, including the maintenance involved. The Turbo-Air Pre-Depanner has adjustable nozzle carriages, allowing the operators to adjust for the different pocket spacing in pans without having to be concerned with flying seeds. The nozzles are supplied with air from a special manifold that is heated by the turbulent air flow to temperatures above 160oF (the temperature required to kill E-coli). In addition an optional UV sterilization system can be added to insure sanitary air quality.
An additional bonus to the pre-depanning operation is the removal of the excess seeds prior to the seeds ending up on your floors and clogging your vacuum depanner, which requires down time for cleaning the ground seed paste from the inside of your depanner. The seeds instead are swept off the pan by a curtain of turbine air and accumulate in a hopper, where an optional Venturi nozzle can be used to transport the seeds to a collecting barrel for possible recycling or disposal. The entire top enclosure can be raised with a push of a button for racking off pans and for easy cleaning.
Each adjustable nozzle is designed with a large opening for Turbine air and a smaller opening for emergency "house air". The house air is cleaned using a 32 ounce coalescing filter, which although not completely sanitary will take out contaminants down to 0.01 ppm during the period necessary to restore the Turbine air.
* EXTENDS PAN GLAZING CYCLES * IMPROVES COST EFFECTIVENESS * SANITARY AIR * REDUCES LOAD ON MAIN COMPRESSOR * EFFECTIVE SEED REMOVAL * CLEANER & SAFER WORK ENVIRONMENT
Bake Star, Inc

1881 County Road C, Somerset, WI 54025 (763) 427-7611 Cell Phone.